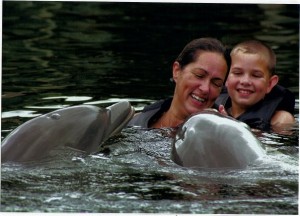 Hi friends! Today is a very special day here on the blog because author Shel Delisle is joining us. Her new book, DOLPHIN GIRL, tells the story of Jane, a girl who wants the life of a dolphin: Wild. Graceful. Free. But these days her life is nothing like that. Between her mother's strict rules and the cliques at school, Jane feels trapped in a child-sized life vest. And when a wave of events crash down on her, separating her from her family, friends and the popular guy at school she's fallen fin over tail for, Jane must figure out how to surf through rough seas without having everything she cares about pulled under.
Trust me when I say that Shel is THE MASTER when it comes to character, and today she's talking to us about how jobs can help define our characters (and ourselves!) Take it away, Shel!
I'm curious, do you make your teen characters go to work?  Or do you let them laze around the house and get into all sorts of trouble? Seriously. One of the first things I always consider for my characters is do they have a job?  And, if so, what is it?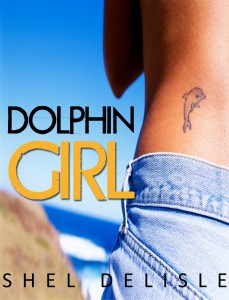 Jane, the main character in my book Dolphin Girl is quirky and artistic and, for what it's worth, she doesn't have a job. But this is the only book of mine like that. All my other characters work and, for me, giving characters a job has been a good thing.  Really, it's a critical thing. Because…first of all, it gives them something to do other than school or dates.  If you write fantasy, your characters might not need a job.  They might be saving the world or doing something else really important.  But for realistic contemporary fiction it definitely helps to flesh out your character.
Secondly—and this is a biggie for me –-it allows me to put them into a more interesting setting. Again, this isn't as critical for certain types of writing, like fantasy, but it is for contemporary. Settings for teens can become pretty ho-hum.  Everyone knows what a high school classroom looks like.  Unless the character is very rich, or very poor, their home probably won't be very interesting either. But jobs can be as varied as your imagination will allow.  Go wild, here.
And the final reason, read: REAL reason, is that jobs and work are a fundamental part of who I am.  That concept runs deep, like to my core. In fact, it's hard to figure out what else my characters could be, because the truth of the matter is—
I am a worker.
And have been since, well, ever since I can remember. I come from farmer stock.  Have some German blood.  Grew up in parts of the midwest.  Yeah, I know, it was unavoidable.
Sure there are days I wish I led a life of leisure, but then how would I be able to draw on my "rich" job experience when writing?  Did you notice the quotes around rich?  Yeah. Anyway. I thought it might be fun to share some of my work bests and worsts. It always makes me think of characters, or plots, or funny settings or whatever. So, here we go
Counter help, Dairy Queen – Best part: Learning to do the DQ curl and perfecting it.  Worst part: Lots of sticky stuff to clean.
Waitress, IHOP – Best part: Sunday morning tips.  Worst part: Even more sticky stuff to clean.
Lingerie Salesperson, Department Store – Best part: There was no best part to this job.  I left after three weeks. Worst part: Really obnoxious customers who all seemed to wear size ZZZ bras.
Assistant Manager, Discount Shoe Store —  Best part: Um, did you read the job?  It was a DISCOUNT shoe store and guess what:  I got more discounts.  Like I bought a pair of yellow alligator stilettos for five dollars. Five. Freaking. Dollars.  I know, right?!!  It was awesome!!! Even if they were a half size too small.  Some days I wonder why I ever left this job.  Worst part: Oh yeah, this is why…the store was only closed four days during the year: Christmas. New Year's Day, Easter and Thanksgiving.  Even though I'm a worker I like a little more time off than that.
Paste up artist, Miami Herald – Best part: I worked with cool people.  Worst part: Deadlines.  Serious, serious, serious, people-standing-over-your-shoulder-breathing-down-your-neck deadlines.
Cashier/Ticket taker, Dorm Cafeteria —  Best part: Got to know all the cute guys in the dorm.  Worst part: Really?  Dorm cafeteria.  Need I say more?
Advertising Sales Representative —  Best part: I met my hubby there.  Worst part: Riding from business to business in the middle of summer in Florida.  Seriously it's miserable to run one or two errands, but to spend all day getting in and out of your car, while dressed up?  Um.  Not fun.
Travel Industry Marketing Executive — Best part: Travel.  Worst part: Travel!!!!
Writer – Best part: Everything except rejection Worst part: Yeah.  I already covered that.
So now I'm a publisher and a published indie author and the work doesn't really stop.  Post publication one of the things I've done is this blog tour.  There are interviews here and here and here and, um, here.  That's a lot of interviews and I'm grateful for a chance to do them, but it is work!  The best part (in this very new career) is hearing from complete and total strangers that they loved your book.  The worst part is people who think that being indie means you can't write and "now just move along to the back of the bus, please."
As for indie publisher.  Well, I think I've hijacked Meredith's blog for long enough. (Thanks, Mer!)  So someday I'll do Part Two at my blog and talk about the publishing part there.  That way, if you'd like to stop by you can, and, if not, I won't bore you with the details.  In the meantime, I've got to get back to work.  I've got another blog post to write and my WIP is calling to me.  Do you hear it?  Write, write, write.  That's what it's saying.
Thank you, Shel! Shel has graciously agreed to award one lucky reader a copy of DOLPHIN GIRL, and trust me, you want to win this book. It's that good. All you have to do is leave a comment and tell us what was your best job growing up?  Or the worst?  Or talk about one that you've picked for a character.  Is it a dream job?  Or one with the boss from hell?
This contest will stay open until Friday, after which random.org will pick a winner. Good luck!