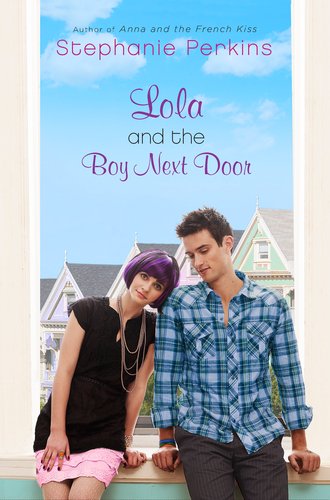 Budding designer Lola Nolan doesn't believe in fashion . . . she believes in costume. The more expressive the outfit — more sparkly, more fun, more wild — the better. But even though Lola's style is outrageous, she's a devoted daughter and friend with some big plans for the future. And everything is pretty perfect (right down to her hot rocker boyfriend) until the dreaded Bell twins, Calliope and Cricket, return to the neighborhood.
When Cricket — a gifted inventor — steps out from his twin sister's shadow and back into Lola's life, she must finally reconcile a lifetime of feelings for the boy next door.
You guys, I have a secret. Come here, lean in close and I'll whisper it to you.
*I think I might have liked LOLA AND THE BOY NEXT DOOR better than I did ANNA AND THE FRENCH KISS*
I know, right?? I mean, I geeked out pretty hard core over ANNA, but when it comes down to it I think I connected more with LOLA. I just loved everything about this book. There's the setting in gorgeous San Francisco (one of my favorite cities in the US, nay the world). There are Lola's dads, who I think might have surpassed Mia's parents as my favorite YA parental figures of all time. And of course, there's Lola and the boy next door himself. Lola is flawed and complex yet totally relatable. And Cricket is, well … the word charming doesn't do him justice. I want to read this book again and again and again.
If you haven't yet read LOLA, get thee to a bookstore post haste! And if you have, what did you think? Are as big a fan as I am?