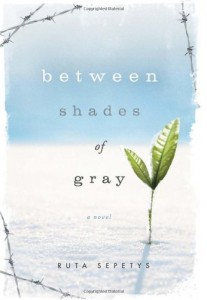 In 1940, Soviet Premier Joseph Stalin invaded the Baltic nations of Lithuania, Latvia and Estonia and annexed them into the USSR. Shortly thereafter, he began a systematic ethnic cleansing of the Baltic people. BETWEEN SHADES OF GRAY begins when Soviet officers barge into 15-year-old Lina's house and deport her along with her mother and younger brother. Her father has gone missing. She is herded onto a train in the middle of the night with no idea where she's headed, and thus begins a multi-year struggle to survive, to live and to find her father.
Wow.
What can I say about this book that will do it justice? This book was … hard. It would have been difficult to read five years ago, before I had children. Reading it now was gut-wrenchingly difficult at times, but I wouldn't take it back. Not for a second. It's rare to find a book that is so powerful, so haunting. This is the kind of book that sticks with you long after you've closed its pages. The kind of book that makes you hug your loved ones tight and realize just how lucky you really are. The kind of book that should be required reading for everyone, both for the history and to serve as a reminder of what people are really capable of.
If you were to ask me what my top book of 2011 is, this is it. For sure. You can find it at Amazon, B&N or Indiebound.
Have you read BETWEEN SHADES OF GRAY? What did you think?