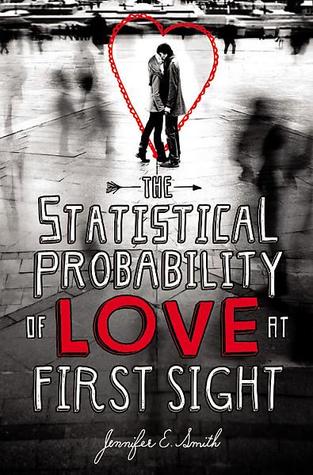 Today should be one of the worst days of seventeen-year-old Hadley Sullivan's life. She's stuck at JFK, late to her father's second wedding, which is taking place in London and involves a soon to be step-mother that Hadley's never even met. Then she meets the perfect boy in the airport's cramped waiting area. His name is Oliver, he's British, and he's in seat 18C. Hadley's in 18A.
Twists of fate and quirks of timing play out in this thoughtful novel about family connections, second chances and first loves. Set over a 24-hour-period, Hadley and Oliver's story will make you believe that true love finds you when you're least expecting it.
I loved THE STATISTICAL PROBABILITY OF LOVE AT FIRST SIGHT something fierce, you guys. I sat down to read it yesterday afternoon after my daughter went down for a nap, and I didn't stop until I'd finished the whole thing (big thanks to my kid for taking an extra long nap yesterday). Hadley is such a likable narrator, Oliver is laugh-out-loud funny, and the entire book is the kind of thing you should read when you need a pick-me-up. But underneath that, there's also a level of depth that's uncovered as Hadley tries to figure out her feelings on love in general.
A great read. I highly recommend it.
Mmmmmmm! Bread!
How's that for a transition? I've talked before on here about how I'm a huge fan of Artisan Bread in Five Minutes a Day. I've been making bread for almost a year now, so recently I've felt comfortable experimenting with my own recipes. Don't get me wrong, sometimes these are disasters of epic proportions (like the all-wheat/wheat germ/wheat flake bread I tried to make in January—I still cringe), but sometimes I stumble onto something amazing. Which is what I did last week.
Holy crap, you guys, I love this bread. It's so, so simple, yet hearty, filling and delicious. So here we go! It's called … hmm, I'm not sure. Oat wheat bread? Sure!
(This recipe makes two loaves. Also, I use a stand mixer, but this could easily be adapted to just use a big bowl and your hands.)
You need:
1 1/2 cups warm water
2 1/4 tsp. yeast (equivalent to one packet)
2 tsp. salt
1/4 cup oat flour
1/4 cup whole wheat flour
1 1/4 cup white wheat flour
1 1/2 cup unbleached all purpose flour
Directions:
1) Add yeast, salt and water to bowl of mixer and swirl together.
2) Add flours and beat on low (using a dough hook) until all ingredients are mixed and a ball of dough forms, approximately two minutes.
3) Leave dough in bowl, cover with plastic wrap or a wet kitchen towel, and let rise 2 hours.
4) Preheat oven to 450 (or 425 if you're using convection). If you have a pizza stone, put it in the oven now to preheat. If you don't have one, don't sweat it. Sprinkle a pizza peel (or cutting board) with corn meal.
5) Split dough into two. Take one loaf and knead in your hands a few times. The other loaf can be refrigerated for up to a week before use, but don't store it in an airtight container. I plop it into a bowl and loosely wrap Saran wrap over it.
6) Form dough into loaf, as such.
7) Let loaf rest on pizza peel or cutting board for 20-30 minutes. Then cut slashes in top of loaf.
8) Place a small, lipped cookie sheet on the bottom rack and pour 1 cup of water into it to act as a steam bath. Slide loaf onto pizza stone. (And like I said above, if you don't have a pizza stone, you can always use a cookie sheet. Your bread won't turn out quite the same, but you won't totally ruin it either, according to my friends who've done the cookie sheet method).
9 ) Bake for 35 minutes.
10) Bask in the amazing smell that is wafting through your house. Slap some butter on a slice and enjoy!