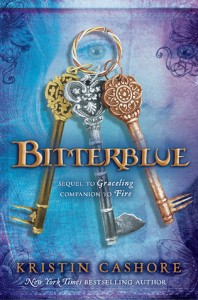 Eight years after Graceling, Bitterblue is now queen of Monsea. But the influence of her father, a violent psychopath with mind-altering abilities, lives on. Her advisors, who have run things since Leck died, believe in a forward-thinking plan: Pardon all who committed terrible acts under Leck's reign, and forget anything bad ever happened. But when Bitterblue begins sneaking outside the castle—disguised and alone—to walk the streets of her own city, she starts realizing that the kingdom has been under the thirty-five-year spell of a madman, and the only way to move forward is to revisit the past.
Two thieves, who only steal what has already been stolen, change her life forever. They hold a key to the truth of Leck's reign. And one of them, with an extreme skill called a Grace that he hasn't yet identified, holds a key to her heart.
I loved Kristin Cashore's debut novel, GRACELING, so I was anxious to read the sequel. And now I can say with complete honesty that I loooooooooooooved BITTERBLUE. We're only halfway through the year, but I have sneaking suspicion BITTERBLUE is going to wind up on my "Best Of 2012" list. Here's why.
Old friends and new friends. Plenty of old favorites make an appearance, chief among them Katsa and Po, the MCs of GRACELING (and it is so lovely to see them again and witness how their relationship has evolved over the past eight years). And then there's Giddon, who I didn't much remember from GRACELING but who grows into his own in BITTERBLUE. (Side note: Has Giddon always been so swoonworthy?) There are new characters to swoon over too, namely Saf, a street thief who catches Bitterblue's eye (and it's easy to see why).
Depth of character. Every single character leaps off the page. That's not an exaggeration. From the curmudgeonly librarian to the queen's ancient chief advisor to the mild printer Bitterblue meets on the street, every character has a backstory, every character has an arc, every character is rounded and believable. That's good writing, folks.
Twists and turns and foreshadowing, oh my! You think you know where the story is headed? You don't. Kristin Cashore is perhaps the master at doling out only the smallest bits of information you need, leading you down a path, then pulling the rug out from under you. I loved every second of it.
Emotion. Ms. Cashore plays with it. Plays with yours. There are highs in this book and there are lows, and you will feel every single one of them along with the characters.
BITTERBLUE is a book that's meant to be savored.* And, if you're a writer, studied. It's one I'm going to keep coming back to, of that I'm sure.
What about you? Have you read BITTERBLUE? What did you think?
* More on that soon.