As in, out there in the wild! The book that I wrote in summer 2011, that I sold in summer 2012, that has been my own little baby for nearly three years. It's now here, for everyone to read. I can't even describe how it feels. It's amazing. Simply amazing.
There are so many people who made this book possible, and I've already thanked most of them in the book's acknowledgments section. But, funny thing about acknowledgments sections: You write them ridiculously far in advance. I wrote mine after the first round of edits, before I had a cover, before I'd talked to a single person in marketing, before I made some friendships that kept me sane during those moments I was teetering on crazy. And these people totally deserve thanking. So, without further ado . . .
Acknowledgments Section: Addendum
Thank you to everyone at Skyscape who made this book happen. My entire editorial team—Marilyn Brigham, Miriam Juskowicz, Courtney Miller—your enthusiasm and devotion to my book has been unparalleled. And thank you to marketing team extraordinaire Erick Pullen and Timoney Korbar, for going above and beyond to get the book's name out there. Thank you to Katrina Damkoehler for designing a breathtakingly beautiful cover, and to Cliff Nielsen for the gorgeous illustrations. I am so, so blessed to be a part of the Skyscape family!
And thank you to the talented writers who make up One Four Kid Lit. Your advice and encouragement has been priceless. A special thank you to Christina Farley, Jessie Humphries, and Lori M. Lee, my fellow Skyscape '14 debuts. <3 you ladies.
And thank you to you, for reading what is rapidly turning into something akin to a cheesy, canned awards speech. And for supporting me always. THANK YOU.
Next, THE EIGHTH GUARDIAN blog tour is in full effect! The schedule is below. There are lots of fun interviews, reviews, and posts in the works!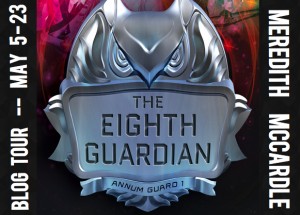 May 5: Me, My Shelf and I
May 6: Winged Reviews and Pub(lishing) Crawl
May 7: Larissa's World
May 8: Swoony Boys Podcast
May 9: The Write Path
May 12: Min Reads and Reviews
May 13: Two Chicks on Books
May 14: The YA Guy
May 15: Manga Maniac Cafe
May 16: Mercurial Musings
May 19: I Am a Reader
May 20: Bibliophilia, Please
May 21: Books Complete Me
May 22: Mel's Shelves and Addicted Readers
May 23: A Chick Who Reads
 Finally, I picked a winner for the character reveal giveaway! A signed hardcover and $25 Amazon gift card goes to …
JAIME ARKIN! 
I'm so happy that THE EIGHTH GUARDIAN is finally out there in the world and that anyone who wants to can read about these characters who are near and dear to my heart. I sincerely hope you love them as much as I do.
Here's one last look at all of them together. And HAPPY READING!!