You might have seen recently that I hand painted the first page of Harry Potter onto a wall in my home office.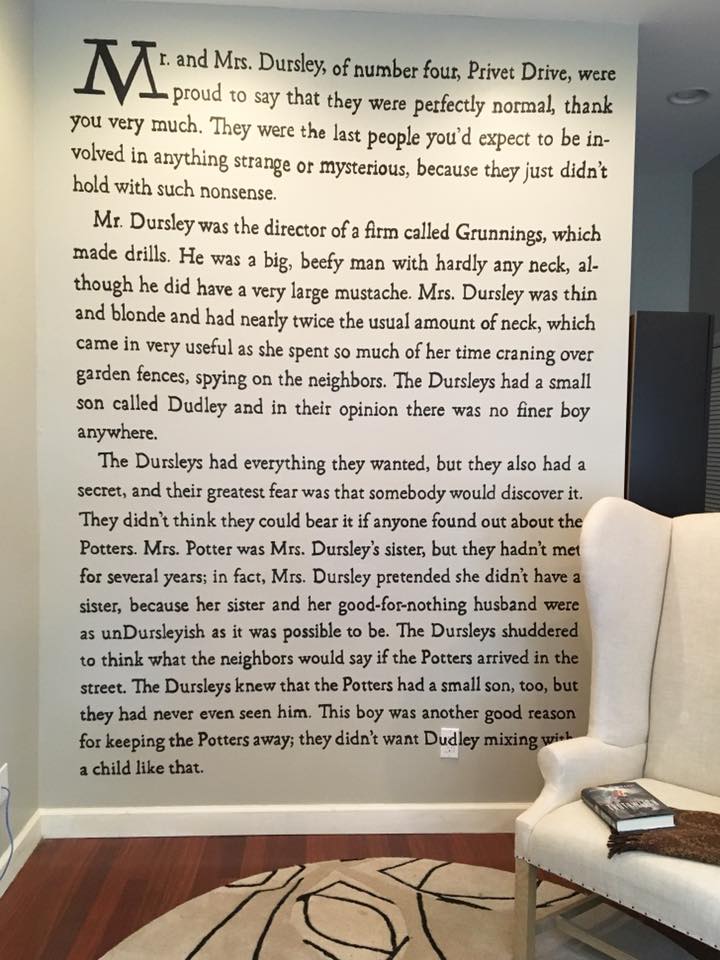 The story has kind of been picked up a lot of places. AND I REALLY MEAN A LOT OF PLACES. FOR REAL. (Those are just a few. And I woke up to 3 more media requests this morning that came in overnight.)
It's been a little overwhelming, to say the least. I NEVER would have guessed this was going to happen when I tweeted my little wall into the world of the internets. I've had trolls accusing me of photoshopping the whole thing, which is seriously funny because anyone who knows me knows my photo manipulation skills stop at Instagram filters.
Here's how I did it. I borrowed an overhead projector from the elementary school where my mom teaches, printed out the first two pages of Harry Potter*, which I got from a free sample of the book at Scholastic's website, onto transparent film, then projected the image onto the wall. I then spent twenty hours tracing it. I thought it would take two. Honestly and truly. I'm awful at time estimation. It took me twenty minutes alone to trace "Mr. and Mrs. Dursley," after which I realized I had made a serious miscalculation and had a Come to Jesus talk with myself about whether or not to continue.
*It's actually the first page and a half of Harry Potter because an illustration takes up half of the first page, and there was no way I was going to attempt that.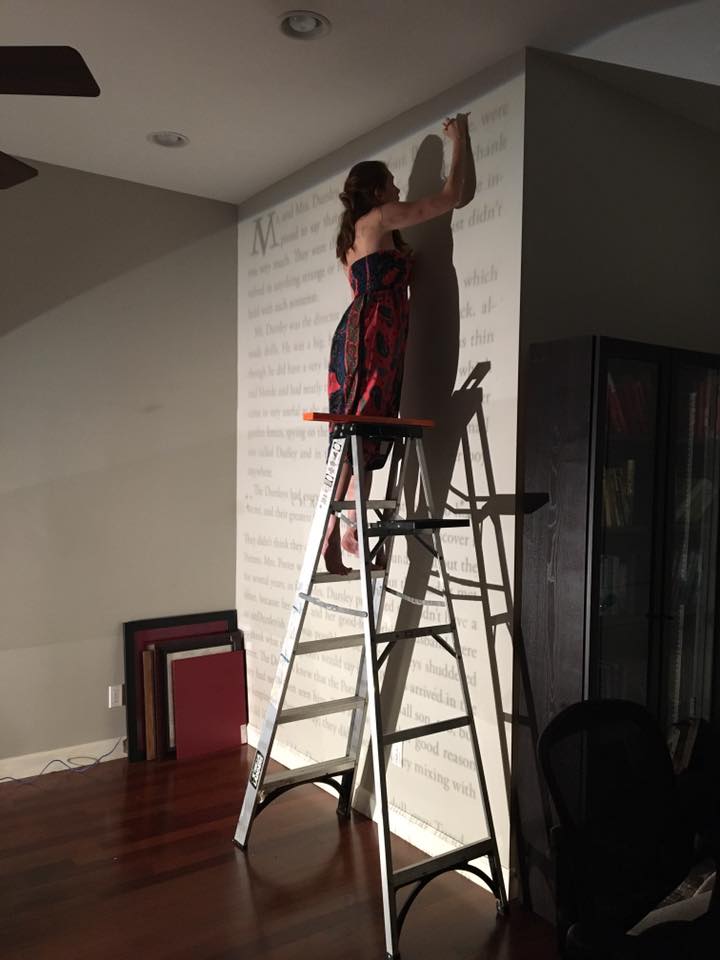 I did. I spent the another forty hours painting the words in, bringing the grand total to sixty hours.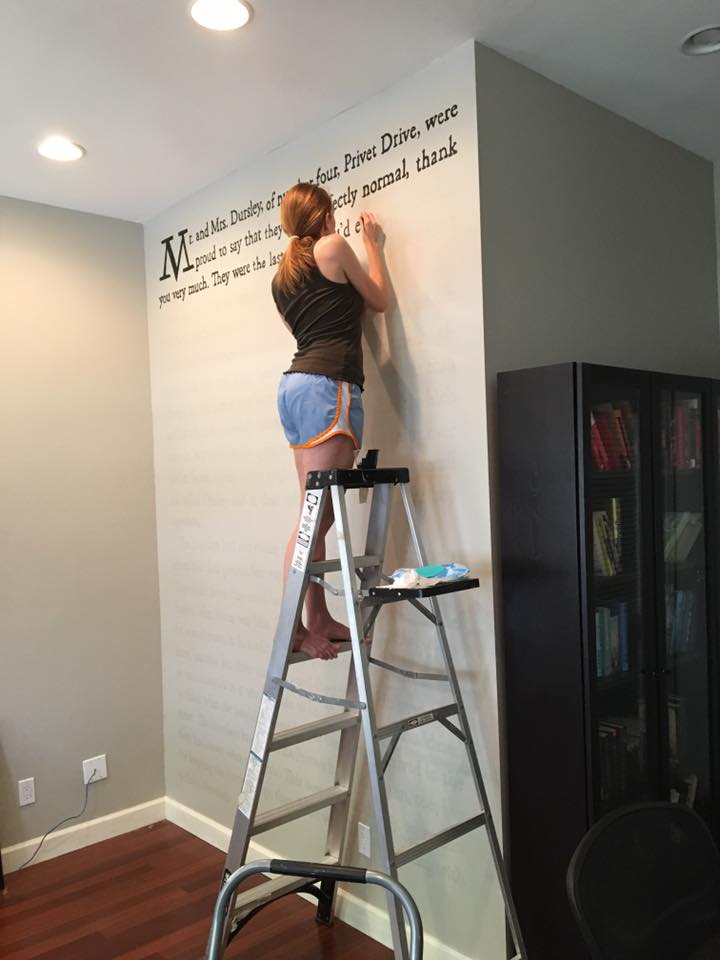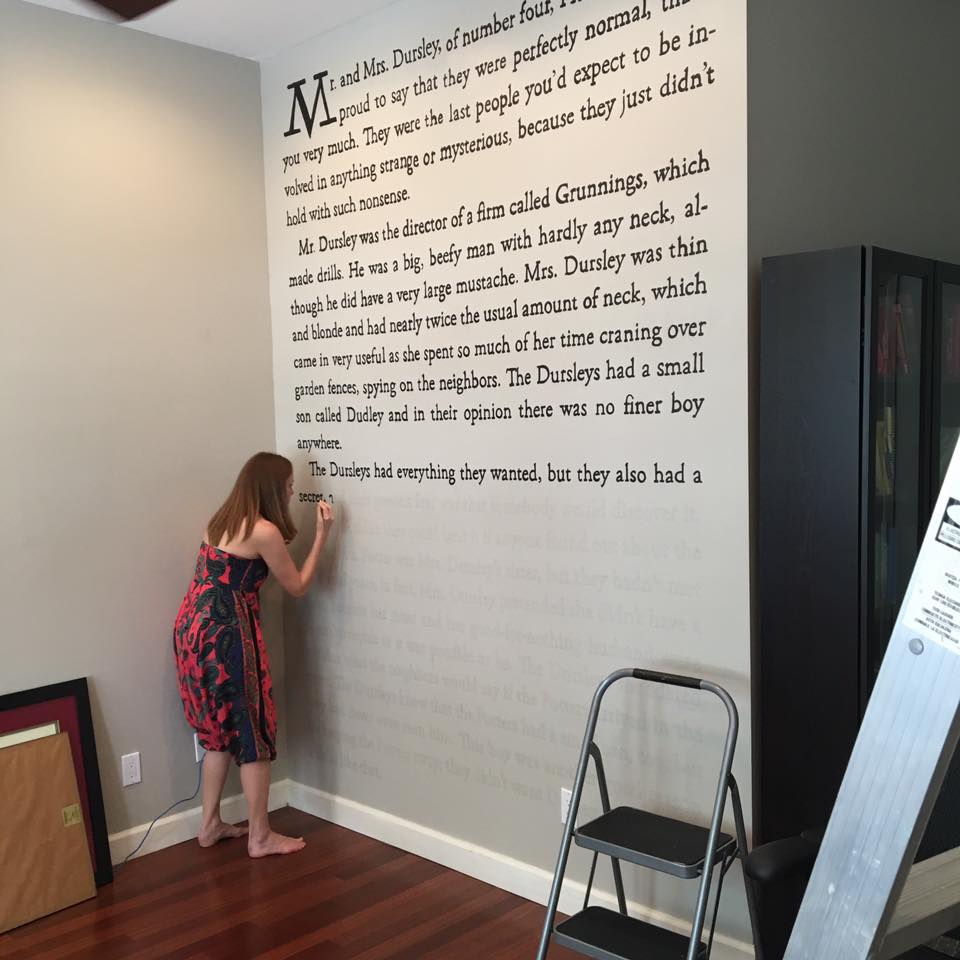 One of the questions I'm getting most is why THAT page? The first page is full of the Dursleys, and who loves the Dursleys? Why not the last page? Or a page with one of the more iconic lines?
Fair question. TBH, I really did struggle with which page I wanted to do. My first instinct was to do a passage from Prisoner of Azkaban because I'm a time travel writer, so it would have been a fun little ode to a genre I love so much, but then I quickly realized that anything with dialogue does not translate well to the wall. It leaves too many blank spaces, and while that might be Taylor Swift's thing, it's not very visually appealing. So that really limited me to opening pages. I went back through the first pages of every book, but a nagging voice kept telling me I needed to start at the beginning, on the very first page of the very first book. Where the magic begins.
Another question I get is, Couldn't you have just gotten a vinyl or a stencil made? And the answer is obviously yes, but, one, it would have been pretty expensive—I mean, just take a quick look at what small stencils cost on Etsy—and, two, it wouldn't have looked nearly as cool. Also, I've never been one for short cuts.
One more question is the type of paint I used. I used interior paint I bought at Sherwin Williams during one of their sales. The color is SW6991, called Black Magic. It didn't dawn on me until several days after I bought it how appropriate that is.
People also want to know how I measured, since I did have to measure each line as I went. I didn't do that to begin with, and the entire first paragraph was crooked as a result. I had to redo it, which was seriously annoying. From that point on, I made sure to measure the left and the right sides from the ceiling and the floor to make sure it was straight before I started tracing. It involved adjusting the projector almost every line.
And in the end, I have a wall I love looking at!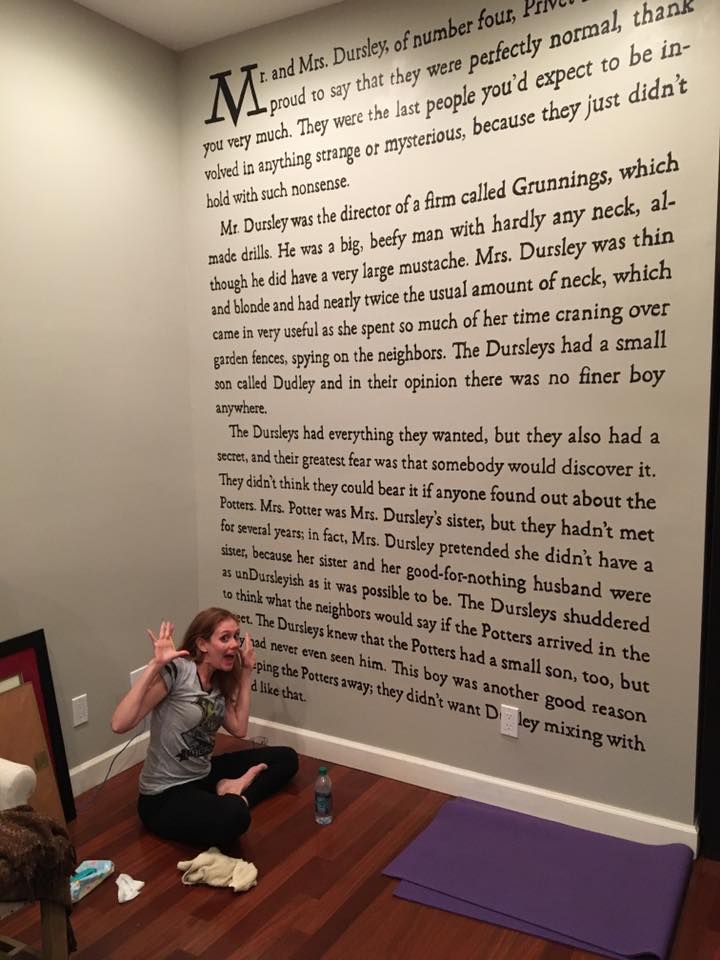 And if you want to take a second to check my books out while you're here, that'd be super cool. I write thrilling time travel adventures about government conspiracies and the bad ass women who try to unravel them. The ebooks also happen to be on sale for only $1.99 on Amazon as part of the monthly deal program through the end of April. There's also hardcover, paperback, and audio editions.
Happy reading/painting/geeking out, everyone!