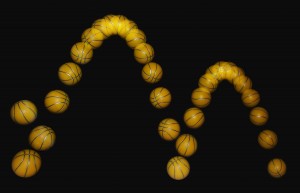 Every writer needs at least one person they can turn to for help with plotting issues. The ideal candidate is one who doesn't bat an eyelash when you say things like, "So there's this machine, right? And it's made entirely out of marshmallow fluff? And it has the ability to teleport you across the country in 8 seconds, transcribe your thoughts and fold your laundry, you with me? Do you think it would be totally unbelievable if this machine could also choose the gender of your first-born child?"
For me, my idea bouncer-offer is my husband. He has a ridiculously wide base of knowledge, which serves him well in trivia games and serves me well when I ask things like, "Hey, what do you know about string theory?" Because the answer is never "Nothing." When I was rewriting Four Stones, my very patient husband split a bottle of wine with me one Saturday night and chatted about magical stones for hours. This past weekend, he spent three whole days helping me puzzle through quantum mechanics and the limitations of time travel. And my stories are so much stronger because of it. You can bet that when and if I have a book published, his name will be first in the acknowledgements section!
What about you? Do you have a go-to person when you need help plotting your WIPs or puzzling through sticky points?