Aaah, Friday Faves! It's been a few weeks since I did one of these because I've been so incredibly lazy busy. Yeah, busy, that's it. Totally. *clears throat and looks away nervously* Onward, shall we?
Favorite blog posts I read over the past few weeks: This post from K.M. Weiland on how she learned to write (with great tips on what all writers should do to improve). Next up is this post from Lisa Gail Green on mixing inner dialogue with action sequences (which is something I struggle with for sure). And finally, two posts from Adventures in YA and Children's Publishing. There's this post that says so much in such a short space—don't be afraid to rewrite, get your story structure down, don't give up. Great advice. And then this checklist of 40 questions to answer before you can call your manuscript done.
Favorite picture of the week (aka Project 365 entry): Last weekend I took part in a photo essay project proposed by a friend. The goal was to take a picture every hour on the hour to document your entire day. I was the subject, so my husband took the pictures, but I managed to steal the camera away from him for a few minutes while the whole family was out in the backyard to snap this one. It makes me so happy.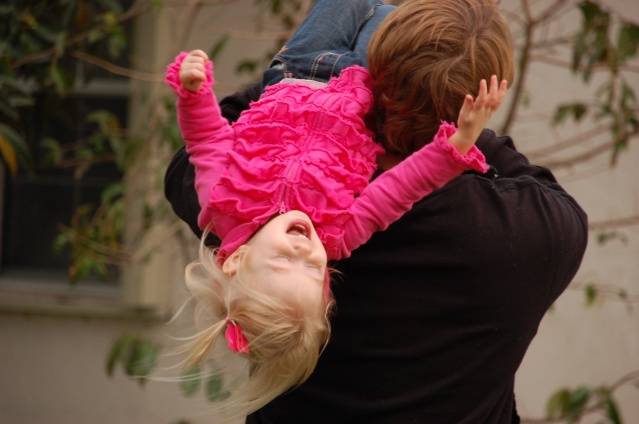 Favorite thing I've read that you should totally enter to read TODAY before it's too late: So one Ms. Holly Dodson came up with a genius idea to spearhead an ARC tour for Susan Dennard's SOMETHING STRANGE AND DEADLY. Contest ends today so head over to Holly's blog to bone up on the details and see how to enter so you can read it for yourself. (Trust me, I've read this book and it's awesome)!
Favorite moment(s) of the week: Friends, I am not a great cook. By any stretch of the imagination. But I'm trying to learn, and this week I cooked not one, not two, but THREE things that were actually really good. It's the small accomplishments.
Favorite video of the week: Meet (somebody's) Aunt Carol and watch her jam out to Usher in her kitchen. I hope I'm just like Aunt Carol when I grow up.
(Edit: Due to technical difficulties, I'm no longer posting the video here but rather linking to it. It's here.)
Have a great weekend, everyone!