Can you even believe it?!? I know I barely can. It honestly seems like just yesterday I was locking myself away in my bedroom, ignoring my kids (but not in a "someone should alert DCF" kind of way), and trying desperately to squeeze out the words to this book. But that was . . . *closes eyes and concentrates* . . . a year and a half ago. Wow. And now BLACKOUT is here. What's it about? Well, if you haven't heard, it picks up right where THE EIGHTH GUARDIAN leave off, and I'll just let the good copy editors at Skyscape explain the rest.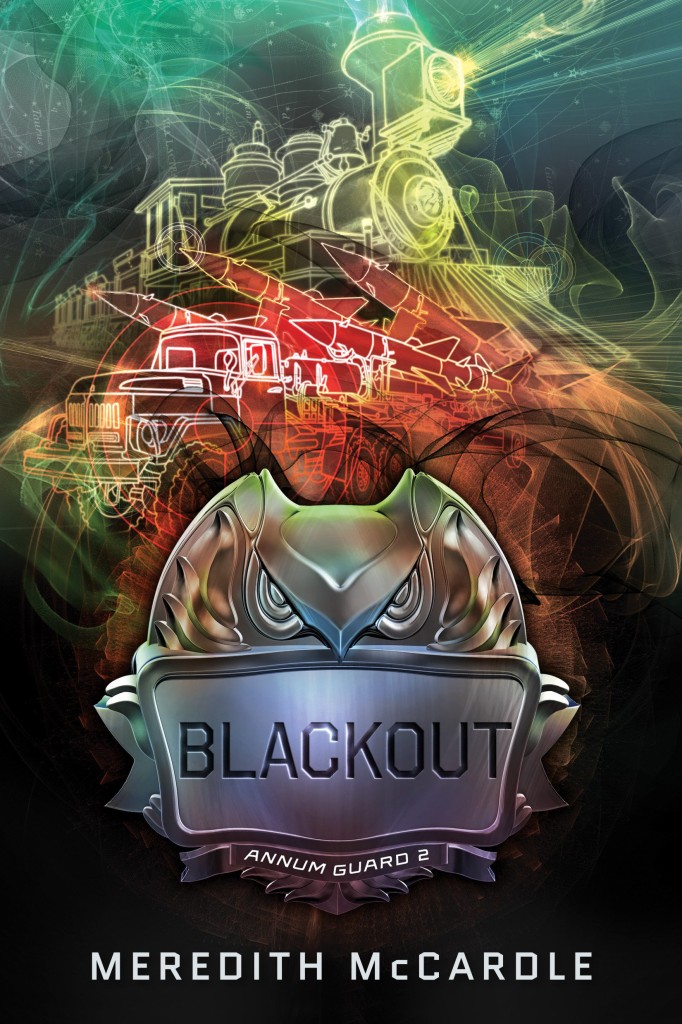 Seventeen-year-old Amanda Obermann (code name: Iris) has more on her mind than usual. As a member of a covert government organization called the Annum Guard, which travels through time to keep history on track, Iris has been getting some particularly stressful assignments. Plus, Jane Bonner, the Guard's iron-fisted new leader, seems determined to make life as hard as possible. Thankfully, Iris has Abe (code name: Blue), her boyfriend and fellow Guardian, who listens to her vent—and helps her cope with her mentally ill mother's increasingly erratic behavior.
When Guardians start to disappear on their assignments, Iris makes a terrifying discovery: a "blackout" squad is targeting anyone who gets in the way of a corrupt force that's selling out both the Annum Guard's missions and Guardian lives. Together, Iris and Blue must go undercover to untangle the Guard's elaborate web of secrets and lies. But when Iris discovers that the terrible truth may involve her own father, a former Guardian undone by his own greed, she must decide how much she's willing to risk to rescue her friends…and how dangerous the consequences will be for all of humanity.
A thrilling time-traveling adventure that spans from Abraham Lincoln's assassination to the Cuban Missile Crisis and back to the present day, this pulse-pounding sequel to The Eighth Guardian reveals that playing with time can turn into a deadly game.
I'm SO EXCITED that this book is finally out there in the world, and to celebrate, I'm giving away some pretty cool prizes. (If I do say so myself). I have TWO Kindle Paperwhites, a signed copy of THE EIGHTH GUARDIAN, and a signed hardcover of BLACKOUT ready and waiting to be shipped from me to you. There are numerous ways to win entries—Facebook, Twitter, Tumblr, Instagram, Pinterest, and an entry just for being awesome. So let's do this thing and spread the word! I hope you love BLACKOUT as much as I do! (Oh, and under the Rafflecopter form, I've included an easy Tumblr link and an image to post on Instagram.
Instagram image: